When I was 17, I spent much of my summer visiting my grandmother, Ariel Watson Billings. We were both "night people" and sat up talking in the wee hours almost every night. She told me many stories about her youth, including facts about our family history all the way back to my gg-grandmother. As she talked, I put together a rudimentary tree with notes in the page's margin.
My grandmother died when I was 39. A year later, I became interested in researching the family history and I pulled out all the info my grandmother had given me throughout the years. The person who most intrigued me was my grandmother's grandmother, Eliza Schmachtenberger. I thought searching for information about Eliza would be easy, considering her very distinctive name.
My great-great grandmother Eliza Schmachtenberger was born in St. Joseph County, Indiana in 1850. She moved to Canada with her husband, Hiram Rushton, sometime after the birth of their first child, Cora, in 1876. She raised my grandmother, Ariel Watson, who was born in St. Thomas, Canada, and who's mother died when she was 12.

I have since found that Eliza's parents were William and Mary (Newman) Schmachtenberger of St. Joseph County. I have connected Eliza's father, William, as the son of Adolph Schmachtenberger of Stark County, Ohio (no factual sources, just a guess from what I've found--but I'll tell you how I figure it out from the facts I do have). I was pretty sure that Adolph was born in Maryland and his parents in Germany, but that's as far as I got. I ended up piecing together his children and their descendants, and the tree is pretty big now.
When I first started researching Eliza Schmachtenberger on the Internet in 1996, I found an Eliza, born in 1850 in Stark County, Ohio (Jacob's daughter) and--silly me--I thought there could only be one Eliza Schmachtenberger born in 1850! My Eliza was also born in 1850, but my grandmother told me she had come from Indiana.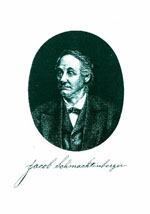 That was the only Eliza I could find at the time, and I found lots of records about her family, including her father, Jacob, and grandfather, Adolph. Then I found that this Eliza died when she was a child! I assumed I had wasted my time on this family, so I put the research aside and went on to find a William Schmachtenberger in St. Joseph County, Indiana. He was listed on the 1850 census with his wife and 2 daughters, one being Eliza, 5/12 years old.
Since Schmachtenberger is a pretty distinctive name, I kept coming across more family members (including another Eliza--my Eliza's aunt!) and began to keep track of the family in all parts of the United States. I started to think they may have all descended from Adolph, since I noticed that most of them were listed in records as born in Ohio, MD, or PA, and had marriage records in Stark County, Ohio, (where Adolph lived) before moving their families to other parts of the country. I put together a tree for Adolph with eight children I believed were his, and looked for records to prove that they were connected. I recently added a ninth child based on his son Andrew's obituary, and two more children who's graves I found.
Here are the children I have for Adolph:
1. Benjamin (1816-1894)
2. Salome (1817-1892)
3. Jacob (1819-1892)
4. Unknown Female (BET 1820 AND 1825)
5. William (1821-1862)
6. Samuel (1823-1898)
7. Andrew (1826-1911)
8. Eliza (1828-1897)
9. Margaret (1833-1909)
10. Christena (??-1842)
11. Sarah (??-1848)
To prove my assertions about Adolph and his lineage, I started to put together the sources of the records I had already found. Andrew, Eliza, and Margaret were easy; they're listed with Adolph on the 1850 Census:
Dwelling 346, Family 354,
Adolph Schmachtenberger, age 61, Male, Farmer, 2000 (value of land?), born
in Germany [Sometimes it says Germany, sometimes Maryland, sometimes Pennsylvania, too]
wife Margaret, age 59, Female, born in Maryland
Andrew, age 23, Male, born in Ohio
Eliza, age 21, Female, born in Ohio
Margaret , age 16, Female, born in Ohio
I found Adolph in the 1820, 1830 and 1840 censuses, and the children I had found all fit the information in the censuses.
Here's the 1830 Census:
Smocklerberger [sic], Adolph
Images Online #: 556 State: Ohio
County: Stark Year: 1830
Township: Canton Page: 283
Males 0-5 - 1 [note: Andrew was born 1826, age 4]
Males 5-10 -3 [note: Samuel was born in 1822, age 8; William was born in
1821, age 9; Jacob was born AUG 1819, age 10)
Males 10-15 -1 [note: Benjamin was born in 1818, age 12]
Males 30-40 - 1 [Adolph]
Females under 5 - 1 [note: Eliza was born in 1829, age 1]
Females 5-10 - 1 [note: no info on this child]
Females 10-15 - 1 [note: Salome was born in 1817, age 13]
Females 30-40 - 1 [Margaret, Adolph's wife]
Daughter Margaret was born in 1834, so is not listed on census.
A really wonderful research volunteer in the South Bend Genealogical Society named Irv Morse sent me the obituary for Andrew Schmachtenberger, and that added some proof that my guess about the family was correct.
Andrew is buried in Lamb's Cemetery (also called Union Cemetery) next to William. I wanted to find information to show that they were brothers and was able to connect them both to Adolph with much of what I found.
Andrew (b. 1826) is listed on the 1850 Ohio census as the son of Adolph S. He is listed with a sister Eliza (born in 1828) [this one isn't my Eliza or the one who died young, but the THIRD one I found] and Margaret (born in 1834).

William, Salome, and this Eliza all moved to the same area in Indiana at about the same time (late 1840's-early 1850's), and except for Andrew, they all have marriages registered in Stark County, Ohio, and had married and left home by the time of the 1850 census. Andrew moved to the same area in Indiana in 1869 (according to his obit), and it appears he never married.

By following Andrew's information, I found he connected the other siblings:
1. He is listed in German Twp in Marshall County with Salome Schmachtenberger Snider's husband, Simon, in a directory in 1889. Salome was born and married in Stark County.

2. He is listed as "Andy" on the 1900 Census in St. Joseph living as a boarder with William Shafer, who is a son of Eliza Schmachtenberger (the one born in 1828 in Stark County) and her husband, Harman Shafer. Eliza was born and married in Stark County and is listed on the 1850 census with Adolph.

3. Andrew is then listed in the 1910 census of Union Township, St. Joseph County. He died a year later, while living with Lemen Shafer (another of Eliza S's sons).

4. Andrew is buried in Union Twp., St. Joseph County next to William. Oh yes, and my William was born and married in Stark County, Ohio.
So this Andrew is connected with William, Eliza, Salome, and Margaret and he is Adolph's son.
I put Samuel Schmachtenberger as the 6th son. He is listed on the 1850 Stark County, Osnasburg Twp, Ohio, census as SAHNACHTENBERGER. He married Anna Eliza Shaffer and had Jerriah and 5 others. He is listed in the same township as Adolph on the 1850 census. He had several children, and that family went to Illinois, then ended up in Colorado. Benjamin is hard to prove. He lived in Williams County, Ohio. He fits in the age group of the 1830 census and he was married May 18, 1845 in Stark County, Ohio, but that is all I have to go on. Jacob is pretty obviously Adolph's with all the Stark County histories and other records mentioning it.
I was able to see the order of the children again in Andrew's obituary. Andrew Schmachtenberger "was a native of Starke County, Ohio,"
He was the seventh child in a family of eleven children and was the last of the children to pass away.
I have only found eight children. In the 1830 census there is a girl listed 5-10 years old. I still need to document sources, but information from Pat Schmachtenberger Kiel shows that she is named Christena. If Christena, born 1820-1825, is added to what I have, then Andrew becomes the seventh child.
Pat also emailed me some great information that she had about the earliest Schmachtenbergers--Adolph's father, Adam, and Adam's father who was born on a ship sailing to America in 1745. There's an article that says once the child was born on the ship, the parents died and a couple from the ship took him to Baltimore and raised him; however, they didn't change his name, in case relatives came looking for him. The boy had many children, of whom 7 were sons who fought in the revolution.


Eliza Schmachtenberger (far right) and kin
Older women in back:
Sarah Schmachtenberger (1852-1945) who married Michael Slough
Her sister, Eliza Schmachtenberger Rushton (1850-1919) my great great grandmother
The younger women are Sarah's daughters, Nora E. (1872-1948) and Gertrude Isabel (1882-1969)
These two obituaries were extremely important to my research. I have links to the obit copies, in case you'd like to take a look.
Andrew was the last surviving child of Adolph Schmachtenberger, and the obituary helps prove my theory that my William is related to Adolph. Andrew is buried in the grave next to William, lived with two of William's sisters and the obit tells of his Stark County, Ohio roots:
1911 Andrew Schmachtenberger
Sarah was the last surviving child of William, and my g-g-grandmother's sister:
1945 Sarah Schmachtenberger Slough
The report beginning with Adolph. I believe I have found all of his children as they traveled across America.
This report starts with William, son of Adolph.
Rick and I went to St. Thomas, Ontario, where I finally got to the cemetery. Story and photos in December 2001 archives. Eliza and Hiram are buried here.