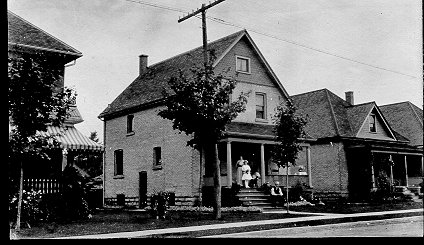 The house in St. Thomas, Ontario, where Hiram and Eliza Rushton lived.
That's Hiram sitting on the porch steps. I think the woman standing
is his daughter Blanche and the girl is her daughter, Violet.
My grandmother was raised by her grandparents, Hiram Rushton and his wife Eliza Schmachtenberger. Hiram was born in England in 1853 and his family emigrated to Canada shortly after. My grandmother told me he had 10 brothers and sisters. She told me he worked for the railroad in St.Thomas, Ontario, Canada and that the train travelled west to Indiana, where he met Eliza Schmachtenberger. She was also from a large family.
The information from my grandmother helped me quite a bit in my research. She said she knew she had family in Indiana, but had never met them. She also knew her grandmother's birth and death dates, but never told me Eliza's parents' names. However, through census records and LDS site information, I was able to put together Eliza's entire nuclear family, and beyond.

Back to the Rushtons. The only information I had for quite awhile was what my grandmother had told me and the 1871 census which listed a single Hiram from England, 18 years old, living in Brant, Ontario. There was a George Rushton in Brant who was the right age to be his father. I have since come across an envelope in my grandmother's cousin's handwriting that lists Hiram's father as George, with the same dates as the George I found.

I found George with Ann Hartly Rushton in the Ontario Cemetery Finding Aid, buried in Brantford, Ontario. I have also recently come across some great old family pictures, and, finally, went to the cemetery in St. Thomas, where I found Hiram, Eliza, their son Horace, and many others.


After putting together some of this Rushton info, I was fortunate to come across a woman named Linda Grant in several message boards in Rootsweb. She is a descendant of George's son—and Hiram's brother—William. We have been corresponding ever since, and she has supplied a wealth of information and photocopies of records, including Hiram's birth certificate and Eliza's death certificate. She has been in contact with other Rushton descendants, and with her great information and help, I have put together a pretty good tree for Hiram and the Rushtons.
Photos (Identified Rushtons)
This picture was found in a moldy box in my late Aunt Ariel's house in 2002.
It's George with his son Hiram, granddaughter (my great-grandmother)
Bertha Rushton Watson, and great-granddaughter, Ariel Watson (b. 1900).
Most of the following photos are from 2 family albums belonging to Ariel Watson Billings and Violet Letitia Lodge (both are granddaughters to Hiram Rushton). The other photos are from Linda Grant, descendant of Hiram's brother William.
Sarah Rushton - coming soon
Margaret Rushton - coming soon
Facts and Records
Hiram Rushton's birth record

Photos of Unidentified Rushtons
These are a mix of Linda's and mine. We're closing in on some of the identities, but still need many of these identified. Unidentified Rushtons.

Genealogy Reports
The descendants of George Rushton of Colne, Lancashire, England.
Census Pages
Robert and Mary Daragh Rushton with daughter Valma in the 1901 St. Thomas census.

Archives
Rick and I went to St. Thomas, Ontario, where I finally got to the cemetery. Story and photos in December 2001 archives.

Links
The Ontario Cemetery Finding Aid
There are Rushtons listed in this great index, including some in St. Thomas, Brantford, and St. Catherine's.