About the Ancestor Movie
My husband Rick created a moving tribute to my ancestors. (It is a large file and may be too slow with dial-up connections.)

About the Family Tree
(5,000+ individuals)
The tree is a work in progress. Some surname pages also have smaller versions.

Email Me
Please let me know if I've goofed up some relations—or just write to say, "Hi" if we have some in common.
Catherine Lawlor, c. 1910

My grandfather on my mother's side was Thomas F. Lang. His mother was Catherine Lawlor from County Kerry, Ireland. Catherine came to America with her family sometime in the 1860's. She came with her father, John Lawlor, mother Hanora Reardon Lawlor, brother John and sister Mary.

I recently found that there was another sister named Honora, and there is Jeremy listed with them in the census, but I have no more information on her. According to Catherine's obituary, the family settled in Detroit, Michigan, for a while, then moved to the upper peninsula.



| | | |
| --- | --- | --- |
| | | |
| John Lawlor | Kate Lawlor | Mary Lawlor |
It's difficult to tell which of these is Kate, but the middle one looks like she's wearing a ring on her left hand, so I think it's Kate. This picture below of an older John shows he looked quite a bit like the younger photo. The mustache never changed.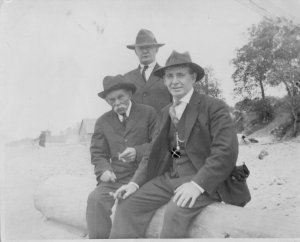 I just found this in a photo album with captions provided
by my mother. Here she wrote, "John Lawlor with Jim and Hugh"
1917
Photos
Several Lawlor photos are on this page; including:
Mae Lawlor (c. 1889)
Lawlor women and girl
Four Lawlor children
Lawlor girls
Young Lawlor man
Unknown Lawlor children

Facts
I found this story about my great-great grandfather in a message board. The author is a distant cousin: John Lawlor's first night in America


Family Coat of Arms


Marriages
James Lang and Kate Lawlor, July 24, 1869
Genealogy Reports
Last updated November 28, 2007: Descendants of John Lawlor
Census Pages
I found Kate, married to James in the 1870 Houghton, Michigan census. I know that the Patrick Lawlor I found in upper Michigan censuses is related, because I remember my mother talking about him, but I haven't made the correct connection, yet.
The Lawlor Census Page
Includes. . .
1870 Patrick and Catherine with children
1870 John Lawlor and children

1900 Patrick and Catherine alone
---
Search this site (names, locations, etc.):

Surnames on this site [more listed under "the Whole Family Tree" section]
The Billings side:
BILLINGS
/
BILLING
,
LANG
,
BERTRAND
,
WATSON
,
BROMELL
,
BOND
,
RICKARD
,
PETER
,
LEAN
,
HAWKIN
/
HOCKEN
,
HOSKYN
,
BROAD
,
RUSHTON
,
SCHMACHTENBERGER
,
FOOTE
,
BULL
,
LODGE
,
LAWLOR
,
REARDON
,
HOULE
,
SENECAL
/
SENICAL
,
BATZOLD
,
BEGGS
,
GUNGEL
,
MCGREGOR
,
MELLOR
,
BROWN
,
ANGELSEY
,
WILSON
The Palmer side:
PALMER
/
PALMORE
,
OBEROWSKI
,
OLESKY
,
KRUSCHINSKI
,
PILARSKI
,
OSTRANDER
,
BECK
,
VAUGHAN
,
EUDAILEY
---
Home Blog Archives Reports Obituaries Memorials Photos Tombstones Ancestors Links
Tree: Surnames Persons Sources Guestbook Guestbook Archives
Copyright © 2001-2010 Katherine Palmer. All rights reserved.
This file last modified 12/09/08